Gambling in Maryland: Is the extra revenue worth the price of addiction?
About 30 years ago when Maryland gambling was largely confined to gaming nights to raise funds for first responders few could have predicted it would turn into a multi-billion dollar industry with six casinos and an aggressively expanding online sports betting market.
In FY 2022, casino revenue, which includes slot machines and table games, brought in $832 million to the state, according to data Maryland Lottery and Gaming provided to the Baltimore Post-Examiner. 
Mobile and online sports betting, which has been available to Marylanders since Nov. 23, 2022, brought in $4.6 million to the state from that date through the end of February.
Total revenue for all gambling operations so far in FY 2023 exceeds $1 billion. That figure includes proceeds from the Maryland Lottery, casinos, and sports wagering and daily fantasy sports.
"That is pretty phenomenal," former Gov. Parris Glendening told the Post-Examiner in a February interview.
Glendening, a Democrat, largely opposed gaming expansion both when he was governor (1995-03) and Prince George's County Executive (1983-94.)
"I was neither an expert nor deeply into the subject matter at all. But I do recall thinking that generally where you have widespread gambling, you tend to have organized crime. And it drains money from communities that can least afford it."
However, in recent years Glendening said his views on the subject have changed considerably, largely because of the "nature" of the casinos themselves.
"It is a different kind of animal. It is much more sophisticated…Long after I was out of office I could feel the change in the public mood. And it did not surprise me that the referendum passed in 2020 with over two-thirds of the vote."
Glendening said he has only scant recollection about gaming controversies dating back to when he led Prince George's County and when charity gaming nights were a frequent occurrence at places such as fire halls.
"I do recall that off and on there were discussions about fundraisers for different organizations that consumed 70% of their funds raised for having the event-which also meant paying members for services and so on. But, specifically, I do not recall that."
In the early 1990s at least 20 non-profit organizations ran "charity" casinos in Prince George's County. At the time skimming was a frequent problem. Glendening shut down many of the casinos after audits revealed hundreds of thousands of dollars had gone missing. Community leaders demanded action be taken to save their constituents from the scourge of gambling. The charity casinos were so popular that advertisements in Las Vegas said Laurel was a great place to gamble.
But Glendening said he believes current safeguards are sufficient to prevent those types of abuses from happening again.
"It is a legitimate concern. I give Maryland credit on this in that they have taken longer [than other states] to implement it…They have done it carefully…Whenever you have this amount of money as decentralized and opportunistic as gambling is-you have to be very careful about fraud and abuse."
Glendening said he is considerably more concerned about the prospect of financially desperate people gambling away their life savings away than about the potential for fraud and abuse.
"We should be supportive, but also aggressive on those two fronts: Aggressive on law enforcement through the Gaming Commission and other law enforcement agencies. And then be aggressive in terms of offering treatment and perhaps trying to curtail enticing advertisements that go after a person's desperation, as opposed to a person's desire to go have some fun."
From ballot initiative to implementation 
Sen. Johnny Ray Salling (R-Baltimore County) was one of the lead proponents of legislation that put the question of sports betting before the state's voters, which they overwhelmingly approved in 2020.
Salling, a member of the Budget and Taxation Committee, said he likes the idea of gambling revenue going to fund Maryland's schools, but nevertheless expressed concern that gambling addiction is a major problem that needs to be addressed with more resources.
"They (the state) could do more. There are problems with some people who are gambling….They need more people that have those problems so they can have an avenue to talk to the right people that have those gambling problems. It is a problem everywhere, just like any kind of addiction. They are going to do it no matter what."
Salling said there are pros and cons to gambling.
"The more that you promote it, the more avenues that you have for people to gamble…I don't know if I have regrets. I think the intent was good. But for the outcome, I am not happy with people being addicted to it. There is a good and a bad part of it."
Pastor says gambling wrecks lives  
Kevin McGhee, a long-time gambling opponent, served as senior pastor at Bethany Community Church in Laurel for more than three decades. He is now Director of U.S. Engagement at Converge Worldwide, a Baptist ministry based in Orlando, Fla.
McGhee relayed that he saw how gambling addiction wrecked the lives of some of his congregants and said he believes the problem has only gotten worse with the passing of time.
"Modern slot machines like you would find at Maryland Live (Live! Casino Hotel Maryland in Arundel Mills) are actually illegal in many countries around the world because they are pre-programmed to have more near-misses than the old mechanical kinds did. And so they are actually very much more addictive. Some people call the digital slot machine the 'crack-cocaine' of gambling addiction."
McGhee said gambling addiction is the leading addiction-related suicide in the U.S.
"The most dangerous addiction for suicide is actually compulsive gambling. I never would have thought that. You would think it would be alcohol or drug abuse. But it is not. Imagine you are a family guy or a successful business guy who goes to Maryland Live on the weekend and you get sucked in. And then you become a compulsive gambler. You can find millions of these stories online where people lose their homes and it destroys their families. So they shoot themselves because of the shame of the whole thing."
McGhee clarified that he is not aware of any gambling-related suicides at his congregation but noted that some of his congregants did become homeless due to gambling addiction.
Gambling addicts make up 5% of the estimated one million suicides that occur worldwide on an annual basis, according to the World Health Organization. Moreover, 50% of gambling addicts have contemplated committing suicide, according to the University of Maryland School of Maryland of Medicine's Center of Excellence on Problem Gambling.
McGhee noted that he and other religious leaders warned the state's political leaders prior to the 2012 opening of Live!-which is located just 11 miles from Laurel-that making gambling readily available had the potential to exacerbate social problems in the community.
McGhee praised then-Comptroller Peter Franchot for having consistently opposed gambling.
But McGhee criticized now-state Attorney General Anthony Brown, whom he said flip-flopped on the issue. In 2006, Brown, then a delegate from Prince George's County, was first elected lieutenant governor. McGhee attributed Brown's support for gambling to political expediency.
"Anthony Brown stood right beside me in opposition to it. And then when he was offered the lieutenant governor job he changed his position. Not surprising. That is the way politicians can be sometimes."
Brown's office did not to respond requests for comment.
Franchot did not respond to requests for an interview.
Has gambling addiction gotten worse due to innovation? 
"The problem with the mechanical machines is that they were not programmed. They were mechanical," said Doug Poppa, who worked nearly two decades in the Las Vegas casino industry as both an investigator and head of security and now produces a podcast after penning hundreds of articles for the Baltimore Post-Examiner.  "So depending on how you pulled the handle, it would either pay out or not pay out."
But the advent of electronic machines changed the nature of the game, Poppa said.
"They have chips programmed with how many times they should pay out. That is the difference between the old machines and the new ones."
Still, Poppa said it is unclear whether the new machines make gambling more addictive.
"I don't know if it is more addictive. The machines now are more enticing to people who have gambling problems because they are digital and more visual than the old mechanical slot machines…They are more appealing because of the visualization."
Poppa said he was only aware of one instance in his entire career of a slot machine being rigged by casino management to prevent players from winning the jackpot.
The much-reported incident is alleged to have occurred in 2011 at the now-defunct Riviera Hotel And Casino in Las Vegas. Under Nevada law, it is a felony to rig a slot machine.
Poppa was informed of the incident by a colleague and he reported it to state authorities.
After the president of the hotel found out what Poppa had done, his employment with the Riviera was terminated.
"They fired me in January of 2012. That is why I lost my career. The news picked up on it. And basically, I was blackballed from the casino business because of that."
Poppa sued the Riviera for wrongful termination and violation of whistleblower laws.
The case was settled out of court.
The criminal element and gambling 
Poppa said mafia control of casinos has largely become a relic of the past since the FBI drove out the major crime families and their key associates in the 1970s and 80s and large corporations took over stewardship of the gaming industry.
But "vice" crimes such as drugs and prostitution, and other crimes such as robbery, theft, and assault, are still major problems at casinos, Poppa said.
"People think holding up a casino in a certain part of the country is just going to be like another business. And it is not. It is going to bring a lot of things with it on the periphery that the area has never seen before. That is one of its downfalls of it. Gambling addiction has been a problem for years."
Poppa said he has no regrets about working in the casino industry. However, Poppa also said that if he lived somewhere other than Las Vegas and was informed that a casino was about to be built, he would probably oppose such a move because of some of the unsavory elements associated with such a venue.
A personal account 
Long Shot's in Frederick County started sports betting in November 2022. The barbeque/bar restaurant offers off-track betting for horse racing, as well as Keno, and has two dozen beers on tap. Long shots also has a facility in Hagerstown, which also has a sports betting license.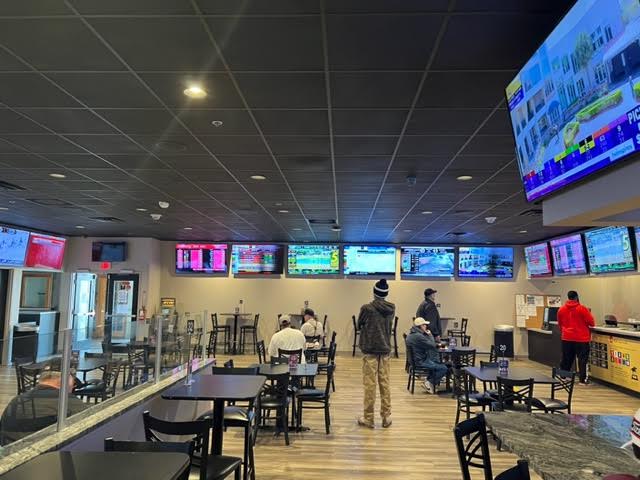 About 20 people were there when the Post-Examiner visited around noon on March 22.
Some of the customers said they came just to have lunch. Others could be seen placing bets.
One man seemingly annoyed at being approached for comment said he did not consider placing bets on horse races to be considered sports betting. The man then said he did not know anything about sports betting.
The bartender, Archana, a Nepalese-born Frederick resident, said she came to the U.S. in 1995 and works at Long Shot's five days a week.
She said weekends generally draw about 80 customers, whereas weekdays typically see about 20 customers.
Archana said she believes gambling can be addictive for some people.
"People are [addicted] everyday."
However, Archana also said that while there are some customers who stay from open to close, most do not fit that category and are just "in it for fun."
Bryan is an award-winning political journalist who has extensive experience covering Congress and Maryland state government.
His work includes coverage of the election of Donald Trump, the confirmation hearings of Supreme Court Justice Brett Kavanaugh and attorneys general William Barr and Jeff Sessions-as well as that of the Maryland General Assembly, Gov. Larry Hogan, and the COVID-19 pandemic.
Bryan has broken stories involving athletic and sexual assault scandals with the Baltimore Post-Examiner.
His original UMBC investigation gained international attention, was featured in People Magazine and he was interviewed by ABC's "Good Morning America" and local radio stations. Bryan broke subsequent stories documenting UMBC's omission of a sexual assault on their daily crime log and a federal investigation related to the university's handling of an alleged sexual assault.